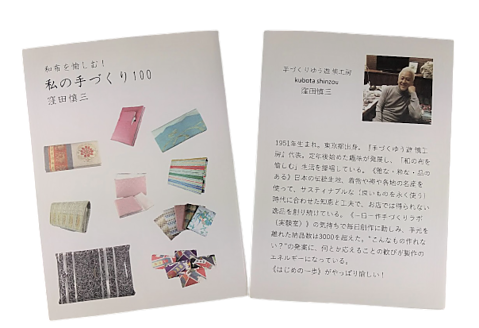 20210804first edition
The relationship between the way I enjoy "My Handmade 100" and the work of Shin kobo is important. The theme of Shinkobo is to enjoy Japanese cloth. Unlike the general mail order Shop, mass production mass production is not the purpose (of course, it is not possible to do in the one-person business), so you can offer original works that can be made by making use of the fabric and end cloth of the memories on hand. Or to provide something that is not commercially available (something useful that you may not be looking for in the market). It's a common story that "I want it but there's nothing that fits." Then make it! There are a lot of such people. I am the same.

During this time since we started our workshop and in the future, we have had wonderful relationships with clients that will be memorable. A number of unique works made up of many wonderful connections. There is a fun story and friendship continues. It is a "100 selections!" with two "memories ..." at the beginning. In the future, I'm sure there will be "200 selections! ..."
First of all, we will introduce 100 selections.

This page has been automatically translated. Please note that it may differ from the original contents.