Handmade Yu Yu, Studio"order hand made made in a fabric of your choice to base

This website is a Studio Gallery. Like Japanese cloth is a library for.
Handmade, small amounts of production capacity for the differences in fabric pleasures while making.
The greatest feature is any fabric of your choice can make the work.
It is also, for the handmade sizes also available.
Follow, is to make the original one is not commercially available.

One published work on price, works sold in the same fabric is possible (limited quantities).
Price not in order work or rare fabrics the same thing without a sample. It is possible to create you pick your choice of different fabrics.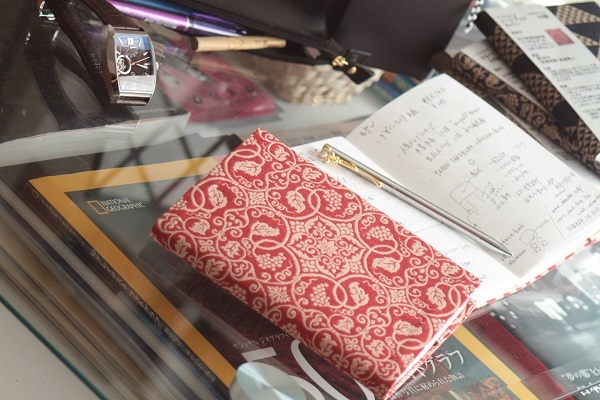 The main work examples

[1] business cards & card holders
[2] notebook
[3] book cover
[4] Handbook cover
[5] smahocover
[6] bag inBag
[7] greeting card
[8] bookmarks strap
[9] Ticket&Wallet
[10] put the business card paper


【11】資料ファイル




【12】楽譜ファイル




【13】愉しいステーショナリー




【14】花粉対策グッズ




【15】"終活"あいてむ




【和文化コラボ1】骨董前掛けトート(休止中)


Health aspects of Japanese culture collaboration 2 acupressure ball
Of collaboration with 3 bags, bag

As other items in addition to the General works, ideas enjoyed new items are created.
Further, as a collaboration with Japanese manga, very unique piece bag inBag clutch back antique apron tote bag and the mekari, mekari, is also available.
Also, overlap and even exchanges with writers of calligraphy and painting and classroom participation, was helping a parent's printing business was little more, able to coordinate the various designs.
2011Retired General company worked for 30 years in July, aiming for one business hobby professional activities, than painting to find Japanese lesson, five, 11/2016, was right in the middle of Tokyo, Edo Kyobashi real exhibition, Studio sales could.
To support tourism in Chuo-ku, Kyobashi edgren B1 tourist information centre for Central District in the Edo period town Edo souvenir trendy senjyafuda wrapping works 365 days a year, exhibited and sold.
Addition, from 2017 to traditional ancient crack patterns of the traditional series, "modern gold" made with special fabrics, tsumugi "Edo chic urban pattern" Japanese-style patterns series "began.
同時に、展示販売のエリアも増加し、2ヶ所のWebShopと3ヶ所の常設展示場所を加えました。箱根の日本画専門美術館「成川美術館」のギャラリーショップには帯で作るステーショナリーを展示しています。
20190925
念願の銀座四丁目に常設展示の場所が出来ました。音楽関連の有名専門店「山野楽器」本店さん!「2019輸入楽譜セール」(9/25~29)を皮切りに楽譜売り場に常設の運びとなりました。新しい開拓分野は「音楽家向け和テイストグッズ」。
Manufacturing through the request of Japanese goods exhibited and sold at the public exhibition at the Tokyo Metropolitan Art Museum, dealers and friends and acquaintances happy reaches to want to be, and every day keeps the creative.

New development of budding new. During the day with a bang 1作 handmade Lab (laboratory) continue to manufacture new products.

Whatever you do "first step" to be attracted.

---

Background / history / achievements

And businesses, personnel, education, product development, sales management, sales, experienced directors and Corporate Auditors
-Business coach, NLP certification
2012Mandatory retirement
-Handmade Yu Yu, Studio business registration
-"I book" (notebook cover with penholder) patent & design Gets
And Kyoto, Hanno, in kawagoe, in doubles as the antenna shop and exhibition sales
, Tokyo Metropolitan Art Museum contemporary pastel society public exhibition
-Join the exhibition sale of Kichijoji, Tokorozawa, Shinjuku, Shibuya, Ginza,
And performing arts Office officer
-Collaboration with the writer's Kimono remake
-Antique apron Tote writer's collaboration.
-Collaboration with Kyoto Nishijin Weaver
-Store "tuktuku"-start
2016
-Japanese small writer's collaboration.
-Collaboration with multi Muse Shan
Permanent exhibition sale started at Kyobashi edgren
Chuo-ku Tourism Association membership
And belongs to Nerima-Ku arts and crafts artists Federation. Theme is "mekari craft.
2017
, Gallery Kyobashi Morris's first solo exhibition
-Hakone ashino-Lake stories Museum exhibition launched
Japan bridge kimono Salone del Mobile support participation
・第21回練馬区手工芸作家展参加
Experience Department held participation in Chuo-ku tourism events
-From Sutra netShop on start
-Yokohama one from Rotary Club member birthday keepsakes years contract.
2018
Tobu department store tradition craft exhibition support participation
-Participate in Paralympic support from s. Hibiya park events
-Hakone ashino-exhibition launch at Lake narukawa art museum gallery shop
-Ethical toy sale
-EVELYN toy sale
-Nerima-Ku Ward industrial center two months exhibit marketing
-Tokyo International Choral competition announced "mekari music".
・第22回練馬区手工芸作家展参加
2019
・東京マラソンEXPO2019応援参加
・石見神楽写真展応援参加
・池袋東口歩3分Waccaビルにて「和布を愉しむ教室」&「手づくり作家のサロン」開始
・第二回東京国際合唱コンクールにて「楽譜グッズ2種類」発表
・日本橋のたもと日本橋観光案内所に「日本橋グッズ」採用、展示販売開始
・銀座四丁目山野楽器本店楽譜フロアにて楽譜グッズ2種類展示販売開始
・第23回練馬区手工芸作家展参加
This page has been automatically translated. Please note that it may differ from the original.